Financing Investment Properties
3 Often Overlooked "Gotchas"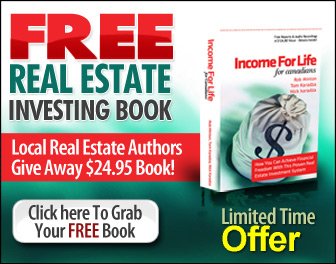 Listen up. When financing investment properties most investors makes the same mistakes. This is important and it is the most common situation I see beginning real estate investors get themselves in.

You go out and get pre-approved by your mortgage broker for an investment property mortgage in Canada.

They give you the thumbs up and tell you to go out and purchase your first investment property.

You are excited that you have begun your wealth creation journey. And you should be...real estate is a proven vehicle to build wealth.

You then go and find a Real Estate Agent that knows something about investing in real estate, you spend weeks finding the perfect property and you finally make the purchase.

Then it happens...

Closing day approaches and your mortgage broker rings you up with something like this...

"Hey, I've got some updates. Apparently I can't actually get that mortgage program that we spoke of a few weeks ago. Don't worry, you will still be able to purchase the investment property but you'll need to put down 10% instead of 5% and the interest rate on the mortgage is going to be 7.8% instead of 5.9%."

Now you've got problems. You need to magically come up with more cash, your Return on Investment will change drastically and your monthly cash flow on the property will go from a positive to a negative.

Let the scrambling begin!

You call your agent, who will likely not have many options for you, you call another broker, who doesn't have enough time before closing to save you and you then call your mom asking to borrow money to save this deal from falling apart. Not fun, not funny.
Financing Investment Properties - The Questions To Ask To Get the Critical Financing Details
Here's what you should know about financing investment properties...
First off, always ask your friendly neighborhood mortgage broker how many investment properties they have actually closed on. You are looking for experience. Let someone else work in a beginner. Not you, it's not worth your time or your money.


Second, ask the mortgage broker to send you the fine print.

Ask for the details of the mortgage program for financing investment properties. Check that the interest rate on the mortgage program doesn't have any clauses about increasing the interest rate based on your down payment amount.

I've seen brokers offer mortgage programs without fully understanding the program. You should know that these mortgages for financing investment properties are hyped and sold to the brokers just like anything else...with salespeople and marketing flyers. Some of the marketing material may highlight a certain interest rate. But the fine print may state that your credit score must be above 650 AND the down payment must be 15% to qualify, not 10% as you anticipated.

Now let me be clear, I don't think there's any malicious intent in these situations. There's fine print in every deal, whether it be a car purchase or a commercial lease or financing investment properties. However, if your banker or mortgage broker hasn't been through any investment mortgages they may be totally unaware of these critical points. So take it upon yourself and ask them to email or fax you the details of the mortgage program.


Lastly, know your credit score. You can pull your credit score from Transunion or Equifax and it will not affect your score. When you pull your credit score yourself it's called a 'soft pull'. Your credit score plays an integral part in getting any mortgage and it's amazing how many people don't know their own score. You may think you have perfect credit, but, and I've seen this, you forgot to pay a $20 VISA card bill 6 months ago and your score drops from 660 to 610 and you now no longer qualify.


Real Estate Investing is a real business. Treat it as such. Know you broker's background, know the the details of financing investment properties, know your credit score, ask questions!
It will save last minute panic attacks two days before closing.
You can focus on making money instead of spending more of your own.
Now go forth and take some action!!
Return from Financing Investment Properties to the Real Estate Investment Guide by clicking here.
  Some Cool Free Stuff...
  Step 1:
| | | |
| --- | --- | --- |
| | Grab a free digital copy of our real estate investing book, Income  For Life For Canadians, right here. This book has been downloaded over 22,597 times and has helped hundreds of investors kick-start their investing with simple and straight forward strategies that you can implement right here in Canada. | |
| | |
| --- | --- |
| | You'll also receive our weekly [Your Life. Your Terms.] email newsletter with the latest investing updates and videos. |

---
  Step 2:
| | |
| --- | --- |
| | Free Weekly Investing Videos & Articles: Get the latest updates and join the over 10,000 other Canadians enjoying the weekly [Your Life. Your Terms.] email newsletter. The email is sent out each Thursday. And as a little bonus we'll give a FREE digital copy of the book, Income For Life For Canadians, too! |
Your Life. Your Terms.

---
  Step 3:
| | | |
| --- | --- | --- |
| | Free LIVE Investing Class: Do you live in the Greater Toronto or Golden Horseshoe Area? Come out to our next introductory "Investing in Nice Homes in Nice Areas" Real Estate Class. | |
| | |
| --- | --- |
| | It's 90-minutes and you'll learn a ton - promise!Thousands of investors have now joined us for this class and the feedback has always been amazing. |