Short Sale Real Estate Investing

Let's dive into an environment forced into Short Sale Real Estate Investing...
Short Sale Real Estate Investing
- How It Impacts Us

It shouldn't be shocking news to anyone reading this that affordability plays a key role in local real estate markets and can often lead to short sale real estate investing.

As incomes go up in a community, more people enter the housing market, which leads to greater demand and rising prices.

The opposite is true if employment or incomes fall in an area as well.
A fall in incomes can obviously impact the ease of making payments on a property and can push people into unfortunate situations which investors can sometimes benefit from through short sale real estate investing.
One place we can witness this to the extreme was in Labrador City, Newfoundland.

Global demand for steel had increased the production in the mines within the area.

These jobs can start at almost $50 an hour, which is much higher than other employment in the area, and has had an enormous impact on the local real estate market.

Some home prices have gone up by 500% over the last few years, and one apartment building recently increased it's two bedroom unit rental amount to $2,000 from $900.

In fact, there is so much demand for workers from the mining companies that there is a labour shortage which is holding back production.

Now people are flying in from other areas for these high paying jobs.

Does this sound familiar? It should.

The same trend took hold in Fort McMurray, Alberta with the development of the oil industry out there. It's population base has jumped 63% over ten years, according to 2011 census data, and that doesn't include all of the part time residents there for a couple weeks at a time to work in the oil fields. The increase in jobs, population, and income led to a rapidly appreciating real estate market.

These booming communities are also at risk of busting because they are so dependent on a single industry. If demand for steel drops for any period of time, which it has in the past, Labrador City can be in for a rough patch.

Regardless, they are perfect examples of the impact affordability can have on an area and a market that is appealing to those interested in short sale real estate investing.

RBC publishes a Housing Trends and Affordability Report that looks at these numbers in major cities across Canada. Here is how RBC explains the report. "The RBC Housing Affordability Measures show the proportion of median pre-tax household income that would be required to service the cost of mortgage payments (principal and interest), property taxes, and utilities, on a detached bungalow, a standard two storey home, and a standard condo (excluding maintenance fees) at the going market prices."

They base their numbers on a 25% down payment and a mortgage amortized over 25 years. The higher the number on their index, the less affordable homes are.

They have an affordability number for the country as a whole but this number doesn't mean much.

Affordability, like many components of a real estate market, is a much more important number at a local level.

So when we hear about the affordability of the average Canadian home in newspaper headlines, we ignore it. We want to get an understanding of what is happening in the specific areas we invest.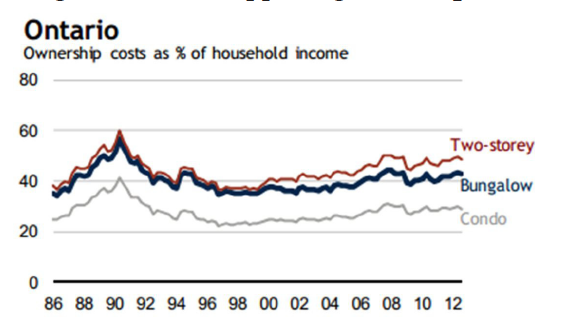 This is the affordability chart for Ontario as a whole. We can use it to look at high level trends, but at a provincial level this chart doesn't give us much of the information we need.

---
Here is the graph for Toronto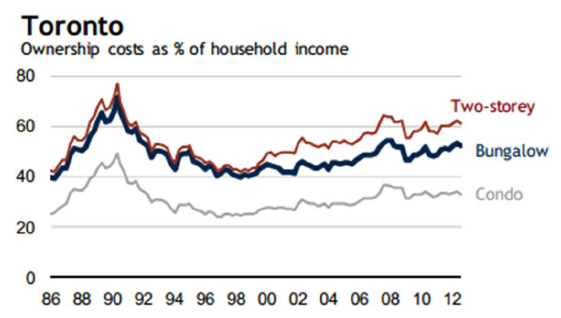 You can see that in the late 1980's the costs associated with the average 2 storey home took up almost 80% of the average income. Notice also that the path to get there was almost straight up. These are two things that don't build a good foundation for a market.
Today, Toronto is hovering around 60%. Higher than we would like it, but the leveling off and declines over the last 4 years are good signs to us. It is a market trying to build some stability.
---
Compare this to a market like Vancouver where the percentage of average income it took to own a bungalow in the city reached 90%!
The Vancouver numbers are the highest ever seen in the country since RBC started tracking this metric in 1986, which doesn't bode well for a sustainable real estate market. This is exactly why we have seen price declines in the Vancouver area recently.
As Vancouver prices move lower you will see more headlines about the "Average Canadian Home Price." Remember the average national home price is a bunch of B.S. Affordability in local markets is a much more important number to understand.
Vancouver had a huge run up of prices, so some cooling is normal and necessary, but at the same time there are areas like Labrador City where prices are skyrocketing.
National prices mean little, local market trends and dynamics are most important.
Paying close attention to the numbers and trends in a market are a vital part in successfully considering short sale real estate investing.

Return from this Short Sale Real Estate Investing page to the Canadian Real Estate Investing Guide by clicking here...

  Some Cool Free Stuff...
  Step 1:
| | | |
| --- | --- | --- |
| | Grab a free digital copy of our real estate investing book, Income  For Life For Canadians, right here. This book has been downloaded over 22,597 times and has helped hundreds of investors kick-start their investing with simple and straight forward strategies that you can implement right here in Canada. | |
| | |
| --- | --- |
| | You'll also receive our weekly [Your Life. Your Terms.] email newsletter with the latest investing updates and videos. |

---
  Step 2:
| | |
| --- | --- |
| | Free Weekly Investing Videos & Articles: Get the latest updates and join the over 10,000 other Canadians enjoying the weekly [Your Life. Your Terms.] email newsletter. The email is sent out each Thursday. And as a little bonus we'll give a FREE digital copy of the book, Income For Life For Canadians, too! |
Your Life. Your Terms.

---
  Step 3:
| | | |
| --- | --- | --- |
| | Free LIVE Investing Class: Do you live in the Greater Toronto or Golden Horseshoe Area? Come out to our next introductory "Investing in Nice Homes in Nice Areas" Real Estate Class. | |
| | |
| --- | --- |
| | It's 90-minutes and you'll learn a ton - promise!Thousands of investors have now joined us for this class and the feedback has always been amazing. |