Real Estate Investment Book
"Income For Life for Canadians"
And a BIG LESSON!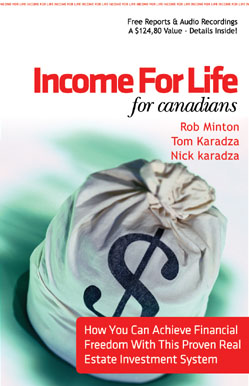 You know when we first talked about putting this real estate investment book together we really had no idea what we were getting ourselves into.
But it's finally done! And I want to share a story about it with you.
The day after we picked up the first batch of them hot off the printers presses we threw them in the trunk of my car and hauled them into the member event we were holding the next day.
Now we had no clue that we would actually be handing these things out but before we knew it we were selling them and a dozen were out the door before we could blink.
Two days later when we received an email from one of our members stating that the real estate investment book was all messed up.
Now we know we're not the Mark Twain's but our real estate investment book was by no means "all messed up"!
So we looked into it and found that a bunch of the pages were out of order.
At this point we could have gone down two paths:
1. Panic.
2. Act and move on.
We chose option #2.
We called the printer and to his credit, he agreed to fix it all for no cost. If anyone needs the name of a good printer in the Toronto area send me a note! Most vendors I've dealt with will kick and scream and not do the right thing...to his credit, he acted quickly and now has a customer for life.
But here's the bigger lesson in this...
When this issue popped up all of sudden we had everyone looking at the real estate investment book for spelling mistakes, typos, and any other errors. And a few did some.
We ignored the mistakes and reprinted the book quickly without fixing them.
And a lot of people couldn't understand why we would have done that. Shouldn't we have waited until it was proofread to perfection?
NO!
That's how most people do things. And I'm sure enough kind people will gladly point out every mistake for us...basically acting as our proof readers for free. Cool eh?
From my experience, the masses are perfectionists with things that don't make them money. Especially beginners at real estate investing.
They won't advertise their property until the hairline scratch on the wall is touched up or the driveway is cleared of snow or the hole in the closet is patched up perfectly.
See, there's a little secret to making money that is often overlooked.
You don't need to get things perfect, you just need to get things going.
So with the book we knew is was more important to get it printed and get it out there then have the website setup, the 16th proof read completed, and our pictures have the right sunlight to shadow ratio. That stuff doesn't make us money.
But getting the real estate investment book out into the hands of people does.
Now you need to have the majority of things in place but waiting until you hang the perfect picture in the family room before you advertise the property is often a waste of time.
Getting people to the property makes you money. And if you do it in the right way you can literally have holes in the walls and get it rent out. We have.
The next time you find yourself fretting over something, the best advice we can offer is, get over it and get moving.
If you stand on the sidelines and try to figure out every single detail of investing in real estate before you take any action you'll likely not get very far.
You need to figure things out as you go. And if you have a good mentor by your side things will work out just fine.
All the big achievers I know just plowing ahead and as problems arise they act on them and move on.
Analysis paralysis doesn't put money into your bank account.
And oh yeah, our real estate investment book is ready but it's not this website yet for online ordering. Go figure, I'm sure someone somewhere can't believe that.
If you'd like a copy hit the Contact Us button on the left-hand side of this page and reach out to us.


Return from Real Estate Investment Book to the Real Estate Investing Guide by clicking here.


  Some Cool Free Stuff...
  Step 1:
| | | |
| --- | --- | --- |
| | Grab a free digital copy of our real estate investing book, Income  For Life For Canadians, right here. This book has been downloaded over 22,597 times and has helped hundreds of investors kick-start their investing with simple and straight forward strategies that you can implement right here in Canada. | |
| | |
| --- | --- |
| | You'll also receive our weekly [Your Life. Your Terms.] email newsletter with the latest investing updates and videos. |

---
  Step 2:
| | |
| --- | --- |
| | Free Weekly Investing Videos & Articles: Get the latest updates and join the over 10,000 other Canadians enjoying the weekly [Your Life. Your Terms.] email newsletter. The email is sent out each Thursday. And as a little bonus we'll give a FREE digital copy of the book, Income For Life For Canadians, too! |
Your Life. Your Terms.

---
  Step 3:
| | | |
| --- | --- | --- |
| | Free LIVE Investing Class: Do you live in the Greater Toronto or Golden Horseshoe Area? Come out to our next introductory "Investing in Nice Homes in Nice Areas" Real Estate Class. | |
| | |
| --- | --- |
| | It's 90-minutes and you'll learn a ton - promise!Thousands of investors have now joined us for this class and the feedback has always been amazing. |