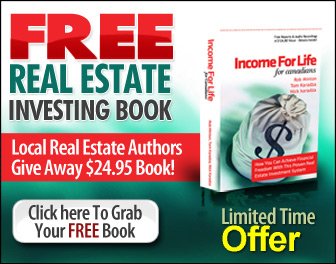 Many of you know that as we researched real estate investing programs we were both "stuck" in corporate Canada to varying degrees.
During that time, we started to build our real estate portfolios and then our real estate brokerage.
Literally for years, I would walk around like I was sleep walking as I strolled through rows of blue/grey cubicle walls.
Although we both had always spoken of wonderful ideas for new businesses we felt trapped in our 9-5 ruts.
And it was so difficult to break out of it because the pay was so good.
Golden handcuffs if you will.
It was a "guilty pleasure" to consider changing course and doing what I really wanted to do. I always told myself that I had had "responsibilities" to produce for my family.
Reflecting back on it all somehow I think I got lost.
I'm not sure where but I took a major wrong turn somewhere.
As a young adult in University, I had these big dreams of helping people, changing the world, making a difference!
And now I was making good money but it was spent on leather shoes, dress shirts, and watches used as some sort of "corporate armour".
Many people reading this may hate what I'm going to say next but it holds true for me...
I felt like I was living in a communist country while working in Corporate Canada.
You really couldn't challenge the boss. You really couldn't put out your own creative corporate messages without getting press releases screened and approved "from above". And you had to "conform" to be just like every other corporate citizen in the organization or risk a trip to Human Resources for some sort of assessment.
Real Estate Investing Programs May Help You Escape 'The Rut'
The only saving grace was that I got to leave and go home at night. I could dive into my real estate investing programs that I purchased off some teleseminar - they gave me some sort of escape.
Please don't misunderstand me. Corporate Canada has given me a lot. It taught me about discipline, routine, and good habits. It taught me about responsibility and the importance of systems. And some of the leaders within the organizations I worked in will remain lifelong friends.
It just seemed that for me, the structure of the corporate organization that had served me well for some years, would never allow me to continue growing throughout my lifetime.
And the expressions and on the faces of older executives seemed to confirm my suspicions.
Everyone seemed pissed off and stressed out.
Maybe that realization was a hidden driver behind our real estate investing and our real estate investing programs - I'm not sure.
But the real estate investing programs we invested in were one of the few "money making ideas" we had that we actually acted upon that would "get us out of here".
Real estate is not the only idea of course. There are a million business models that may be better suited for you. And to be fair, some real estate investing programs are weighted too heavily on the "get-rich-quick" angle. Too much fluff in there.
In the book Vagabonding, by Rolf Potts, there's a story of two monks who have made vows to never leave their monastery but keep telling each other that one day they will go out and see the world.
Knowing full well that they couldn't leave they kept putting off their plans until "next summer" and then "to the next summer". Never actually accomplishing their goals.
After the story of the two monks Rolf Potts has this paragraph in his book, page 12:
"Most of us, of course, have never taken such vows - but we choose to live like monks anyway, rooting ourselves to a home or a career and using the future as a kind of phony ritual that justifies the present. In this way, we end up spending (as Thoreau put it) "the best part of one's life earning money in order to enjoy a questionable liberty during the least valuable part of it." We'd love to drop all and explore the world outside, we tell ourselves, but the time never seems right. Thus, given an unlimited amount of choices, we make none. Settling into our lives, we get so obsessed with holding on to our domestic certainties that we forget why we desired them in the first place."
This article isn't a call for you to get up a buy a couple real estate investing programs and to then quit your job.
I know many people who have pulled away from the "hand that feeds them" too early and destroyed their self-confidence because their "investing career" didn't produce buckets of cash as quickly as anticipated.
What this is ... is a reminder that there are other people like you out here. Other people who want to break their self-imposed shackles. And some that have gone ahead of you and done it.
You are not alone.
Keep reading, keep saving, keep investing, keep building, keep studying those real estate investing programs.
It may seem like slow progress at first but each little step you take towards personal independence will pay off.
Stay focused. Stay disciplined. Don't get frustrated and give up - it's too easy to do that.
And one day you'll wake up realizing that all those little steps have taken you to an entirely new world. One where you're the boss.
It's like getting a travel Visa to a new world.
And then you can leave Communist Corporate Canada for good :-)
Until next time ... be a Renegade!

Return from Real Estate Investing Programs with Two Monks to the Real Estate Investing Guide by clicking here.



  Some Cool Free Stuff...
  Step 1:
| | | |
| --- | --- | --- |
| | Grab a free digital copy of our real estate investing book, Income  For Life For Canadians, right here. This book has been downloaded over 22,597 times and has helped hundreds of investors kick-start their investing with simple and straight forward strategies that you can implement right here in Canada. | |
| | |
| --- | --- |
| | You'll also receive our weekly [Your Life. Your Terms.] email newsletter with the latest investing updates and videos. |

---
  Step 2:
| | |
| --- | --- |
| | Free Weekly Investing Videos & Articles: Get the latest updates and join the over 10,000 other Canadians enjoying the weekly [Your Life. Your Terms.] email newsletter. The email is sent out each Thursday. And as a little bonus we'll give a FREE digital copy of the book, Income For Life For Canadians, too! |
Your Life. Your Terms.

---
  Step 3:
| | | |
| --- | --- | --- |
| | Free LIVE Investing Class: Do you live in the Greater Toronto or Golden Horseshoe Area? Come out to our next introductory "Investing in Nice Homes in Nice Areas" Real Estate Class. | |
| | |
| --- | --- |
| | It's 90-minutes and you'll learn a ton - promise!Thousands of investors have now joined us for this class and the feedback has always been amazing. |