4 Investment Real Estate Loans for Canadians
Conventional Mortgage Investment Real Estate Loans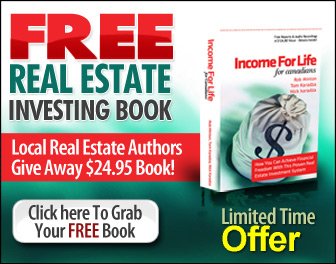 Investors who are familiar with this type of investment real estate loans are generally those who already own a home. This type of mortgage loan is what is offered through mortgage brokers and banks for personal as well as investment purposes. 
This type of investment makes more sense with properties that plan on being held for a longer period of time. For example, if you plan on using this type of mortgage loan for a property you plan of flipping in less than a year, you can expect higher interest rates due to the fact that the term is shortened. This is a way for banks to make more money on the investor since the original term they would have been paying the interest was massively shortened.
Your credit score and history will be the main factor for whether an investor will be approved for a conventional investment real estate loan and it will also be the main deciding factor to how your interest rate will look.
Hard Money Investment Real Estate Loans 
This short term lending loan, also sometimes known as bridge loans, help many investors finance their real estate investments. This type of loan is mainly utilized by investors for house flipping. These loans are insured through private lenders, not banks! This means that there tends to be a much higher interest rate for investors.
And unlike banks, the investors ability to get hold of a hard money investment real estate loan is not determined by the investors credit or credit history. Instead, the lender in change of distributing hard money loans look at "after repair value" which they refer to more simply, as "ARV". This is an estimation into the properties financial worth after the constructions and renovations are complete.
Hard money loans are generally set up on a term of only 36 months. Compared to traditional mortgage loans, this is infinitely smaller. Additionally, third money loans tend to have higher interests rates of up to 10% higher than a conventional loan. These loan features make it important to have a clear image of how long it will take to sell the investment property.
Although this is a much more stressful type of loan, many choose this mainly for convenience. For most, securing a conventional loan can take months. A hard money loan can take a matter of weeks! This is extremely important as it helps investors keep in line with their investment projects, as any separation from their timeline can cost them thousands.
Additionally, due to the fact that these loans are not offered through banks, investors are able to construct their repayment schedule to fit their current needs. Finally, with a hard money loan, the investment property usually serves as great collateral for the loan repayment. This makes it easier for investors to trust that this type of investment real estate loan is the best fit for them (click here for more information).
Private Money Investment Real Estate Loans
"Mom, can I have some extra cash to build a real estate investing empire?"
Private money real estate investment loans are not professional lenders or banks, instead, they are people who can either be in your social network like family and friends as well as other individuals, like property investors, who want to make a good ROI.
Getting this type of real estate investment loan is a great idea for those who do not qualify for traditional mortgage loans. Thanks to generally close relationships with the lender in this case, most conditions of the loan are conditional, and tend to have lower interest rates than what would be given by a professional.
Maintaining relationships with the private lender is important as if they do change, the borrower may begin to feel extra stress and guilt from the lender. Also, by working with a private lender, surprises in the lenders life can happen, where they need the loan returned faster. Be cautious of how the lender reacts to difficult financial situations before they loan you any money, and if there are others that may be dependent on this person financially, like children.
Additionally, tax situations in this type of investment real estate loan can be difficult, seeing as moving significantly large amounts of money from one account to another can create suspicion and problems for investors as well as lenders not too far down the road.
Home equity Investment Real Estate loans
If you already own a home, it's a great idea to use your already built home equity as a way to finance an investment property. This type of investment real estate loan allows investors who have built home equity to borrow against the equity of their primary residence.
This is a great option as investors can borrow up to 80% of the investments value. The amount given for this type of investment real estate loan is based on the difference between your own home equity and that same properties current market value.
---
Investment real estate loans are an important factor when deciding how to allocate your finances towards a property. It is good to have a proper understanding of what works best for your current situation as well as you intentions with the property.
By asking around at financial institutions, mortgage brokers as well as companies like Rock Star Real Estate, you can gain a better understanding of how to proceed with living life on your terms! For more information of investment property loans, as well as other helpful tips and tricks in real estate investing, you can check out RockStarInnerCircle.com.
Return from Investment Property Mortgages to the Real Estate Investment Guide by clicking here. 

  Some Cool Free Stuff...
  Step 1:
| | | |
| --- | --- | --- |
| | Grab a free digital copy of our real estate investing book, Income  For Life For Canadians, right here. This book has been downloaded over 22,597 times and has helped hundreds of investors kick-start their investing with simple and straight forward strategies that you can implement right here in Canada. | |
| | |
| --- | --- |
| | You'll also receive our weekly [Your Life. Your Terms.] email newsletter with the latest investing updates and videos. |

---
  Step 2:
| | |
| --- | --- |
| | Free Weekly Investing Videos & Articles: Get the latest updates and join the over 10,000 other Canadians enjoying the weekly [Your Life. Your Terms.] email newsletter. The email is sent out each Thursday. And as a little bonus we'll give a FREE digital copy of the book, Income For Life For Canadians, too! |
Your Life. Your Terms.

---
  Step 3:
| | | |
| --- | --- | --- |
| | Free LIVE Investing Class: Do you live in the Greater Toronto or Golden Horseshoe Area? Come out to our next introductory "Investing in Nice Homes in Nice Areas" Real Estate Class. | |
| | |
| --- | --- |
| | It's 90-minutes and you'll learn a ton - promise!Thousands of investors have now joined us for this class and the feedback has always been amazing. |