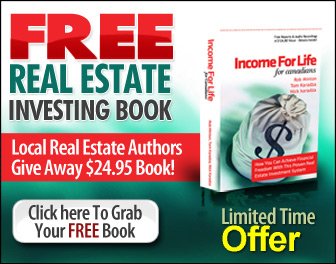 If you've decided to start investing in real estate in Ontario, congratulations, you've made the first big step. Even if you're not sure if real estate is the right investment for you, taking the time to educate yourself is huge.
Every investment should be taken seriously, but real estate tends to be a larger commitment than most, and often seems the most daunting.
There are many types of properties, it's difficult to know what's right for you.
Then there are the horror stories you've probably heard about… No one wants to be a landlord dealing with nightmare tenants. But, how do you avoid getting yourself into one of these situations? 
To top off all your concerns, real estate news can pour on a million more questions and uncertainties. When is the Ontario's housing market not in the news? What does it all mean and how do you ensure your investment is going to make you money, and not leave you bankrupt in your old age?
Well, if you're looking into investments, you've probably already concluded that it's too risky to solely rely on your salary to provide for you, your family, and your future. 
The first thing to know when looking at investing in real estate is that there are no certainties. No one can say for certain if there will be a massive drop in house prices, or if they'll continue to skyrocket for years to come. Likewise, no one can guarantee that nothing bad will happen to your property, or that you won't have difficulties with your tenant. However, there are ways to set yourself up to help maximize your chances for success.
Where to Invest in Ontario
One of the first factors for success is picking the right location.
Ontario is a great place to invest in real estate. There are plenty of opportunities, and there are investor groups that can assist you throughout your journey.
There's no "one" right place, but there are a few main criteria we use when determining if a city/neighbourhood is a good investment opportunity.
1.    A Community that has Growing Demand. 
Why try to create demand when you can you could just go to an area with growing demand?
What does the population growth of the neighbourhood look like? Are people moving in or moving out? Better yet, are people moving there at a higher rate than the provincial average? You can find these numbers on the Stats Canada website. It will take minimal investigating, and it'll go a long way to telling you if a neighbourhood is worth looking at.
Another aspect of demand comes from the type of property you're looking to invest in. If you're looking to own student rentals, proximity to campus and transit are key features which will increase the number of potential tenants.
Starter homes are another property type that are in consistent demand. While a starter home may look different in different communities, there's a higher need for these types of properties.
2.    A Community that has Higher than Average Income.
Income is a big indicator of the prosperity of a neighbourhood. Generally, higher household incomes mean strong job diversity in the area, a solid local economy, and a greater "staying power." 
You want to make your investments as simple as possible, and an area with multiple sources of employment creates a healthy and active real estate market. It provides a good base of tenants, first-time buyers, and "move up" buyers.
This is another thing you can figure out by looking at Stats Canada. Many real estate apps also offer quick demographic insights into the local region.
3.    A Community with New Transportation or Infrastructure Projects.
Is the city investing money in the neighbourhood? If so, that's a great sign. Infrastructure improvements are good indicators of increasing demand and value. Small projects like cleaning up streets and parks, repairing roads, to large investments like adding transit, sewage work, hospitals, etc. are all things to look out for when searching for an area to invest. 
There are many "target areas" for you to choose from. And as long as you remember to focus on growing demand (population), higher than average income (diverse employment), and new transportation and infrastructure projects you are setting yourself up for success.
How to Invest In Ontario
There's risk with every investment, but generally, the shorter the investment period, the greater the risk. There can be large payoffs with short-term investments like flipping properties, but there's also a higher chance of losing. 
There are many investment strategies we regularly help investors use, depending on the investment that makes sense for them. That being said, regardless of the strategy, it's important to have a long-term plan in place. What if you need to hold onto a property for longer than planned? How can you survive and still profit from a longer-than-expected investment? If you're prepared for the long-term, you'll be able to weather a lot of potential bumps along the road.
There are many other things you can do to set yourself up for success. You're already starting one of the most important steps, educating yourself. Continuing your investment education will help you devise better strategies, prepare for the future, and maximizing your profitability.
Another way to better prepare yourself is to build a team of experts who can assist you. Having an agent who specializes in investment properties, a good lawyer who deals with real estate, contractors, and property managers are all contacts you'll want to have handy.
Find out more great ways to prepare yourself to successfully invest in Ontario real estate rentals below...
  Some Cool Free Stuff...
  Step 1:
| | | |
| --- | --- | --- |
| | Grab a free digital copy of our real estate investing book, Income  For Life For Canadians, right here. This book has been downloaded over 22,597 times and has helped hundreds of investors kick-start their investing with simple and straight forward strategies that you can implement right here in Canada. | |
| | |
| --- | --- |
| | You'll also receive our weekly [Your Life. Your Terms.] email newsletter with the latest investing updates and videos. |

---
  Step 2:
| | |
| --- | --- |
| | Free Weekly Investing Videos & Articles: Get the latest updates and join the over 10,000 other Canadians enjoying the weekly [Your Life. Your Terms.] email newsletter. The email is sent out each Thursday. And as a little bonus we'll give a FREE digital copy of the book, Income For Life For Canadians, too! |
Your Life. Your Terms.

---
  Step 3:
| | | |
| --- | --- | --- |
| | Free LIVE Investing Class: Do you live in the Greater Toronto or Golden Horseshoe Area? Come out to our next introductory "Investing in Nice Homes in Nice Areas" Real Estate Class. | |
| | |
| --- | --- |
| | It's 90-minutes and you'll learn a ton - promise!Thousands of investors have now joined us for this class and the feedback has always been amazing. |