"Local Authors Give Away Real Estate Investing Book that Sells on Amazon.com for $24.95"
Step #1: Watch The Video
Step # 2: Get My Free Book NOW!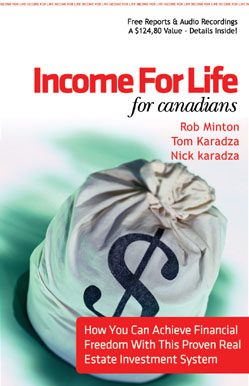 Why Are We Giving Our Book Away?
We hope that by sharing good, solid, fundamentally correct information with you, that you may one day decide to work with our brokerage to buy, sell or invest in property. Simple as that. We believe in "giving first" as a way to show you we know our stuff!
What Can I Expect After Reading the Book?
Our goal is to give you insights into owning property that you may have never had before using actual examples and real-life case studies. We cover both the positive aspects of investing in real estate and the negative, and have found that understanding both can be very helpful.
What Happens After I Request The Book?
After you submit your email address, we'll email you a digital copy of our book. What happens after that is completely up to you. If you'd like to request some case studies of clients we have worked with, you're more than welcome to... or if you'd just like to get a copy of the book, without doing anything else, well then, of course, that's fine too!
What Should I Expect As Results?
Inside the book, you will learn how to use a systematic process to analyze and find properties that can produce more in rental revenues than they cost in mortgage expenses. We also share actual case studies of people that have gone through this process themselves. And, if you are ever interested, you can reach out to us for even more client case studies - we're more than willing to share them.
Here is a link to the Free CD and Report!
---
In The Media...
---
I have read many materials on business start ups and investments. This was undoubtedly far superior to any - you will find great success if you apply the method."

- Michael Tiverson




"Income for Life is far and above the most valuable tool and system that I have been fortunate to take advantage of and offered the privilege to join."

- Paul Morais

"I got a copy of the book - just wanted to let you know that it was such a fantastic read. Down to earth, practical tips and a wonderful perspective!"

- Justin Agius




"An eye opener! Very clear, direct, and to the point."

- Ricardo Avila




"After 19 properties I still learned things from reading this."

- Ruben Furtado
  Some Cool Free Stuff...
  Step 1:
| | | |
| --- | --- | --- |
| | Grab a free digital copy of our real estate investing book, Income  For Life For Canadians, right here. This book has been downloaded over 22,597 times and has helped hundreds of investors kick-start their investing with simple and straight forward strategies that you can implement right here in Canada. | |
| | |
| --- | --- |
| | You'll also receive our weekly [Your Life. Your Terms.] email newsletter with the latest investing updates and videos. |

---
  Step 2:
| | |
| --- | --- |
| | Free Weekly Investing Videos & Articles: Get the latest updates and join the over 10,000 other Canadians enjoying the weekly [Your Life. Your Terms.] email newsletter. The email is sent out each Thursday. And as a little bonus we'll give a FREE digital copy of the book, Income For Life For Canadians, too! |
Your Life. Your Terms.

---
  Step 3:
| | | |
| --- | --- | --- |
| | Free LIVE Investing Class: Do you live in the Greater Toronto or Golden Horseshoe Area? Come out to our next introductory "Investing in Nice Homes in Nice Areas" Real Estate Class. | |
| | |
| --- | --- |
| | It's 90-minutes and you'll learn a ton - promise!Thousands of investors have now joined us for this class and the feedback has always been amazing. |
Disclaimer:
1. Although many of our clients have purchased a rental property and are enjoying great success with it, there are no guarantees with real estate, anything can happen, and we cannot guarantee that you will have the same experiences.
2. Also, please note that each person's investing success depends on their own efforts, market conditions at the time, and economic environments that can change at any time.
3. You should know that every effort has been made to accurately represent the investing models we share.
4. We want to be extremely transparent with you. We are not lawyers or accountants. Any legal or financial advice is our opinion based on our own experiences. Always seek the advice of a licensed professional before acting on any real estate related decisions you may make.