The Renegade Real Estate Investing Newsletter
"Cutting Through the Real Estate Investing B.S."
---
This FREE Real Estate Investing Tips newsletter is your window into the world of real estate investing. You will never get closer to the real action than learning straight from two Canadian brothers, Tom & Nick Karadza, who are actually implementing the strategies they talk about!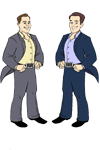 In this weekly publication you will get access to our real world guides, trends, tips, strategies and "how to" information that is being implemented "on the streets" with real people, right here in Canada.
To access the full list of articles visit: www.TheRealEstateRenegades.com or check out their new blog: Blog.TheRealEstateRenegades.com
It is published every Thursday, if you have been forwarded this email and would like your own copy click here to sign up.
---
Thursday, June 5th 2008
In this Issue:
- Renegade Commentary: "You Are On Drugs"
- Featured Article: Our Favorite Real Estate Investment Financing Tips
The next FREE Real Estate Training Workshop
Our next real estate training class is on Thursday June 12th, 2008 at 7:00pm in Toronto. In this class you will learn how to profit from Real Estate without having to rehab and renovate distressed homes and create steady monthly income for yourself.
You'll also learn about actual real life success stories of investors doing this right here in your own backyard. To get all the location details and hold your spot (because we regularly fill the class!) visit: www.CanadianRealEstateTraining.com
---
"You Are On Drugs"
Have you ever known anyone with a serious drug problem? Or seen a bad addiction on a movie?
Well, have noticed that as soon as the "druggie" runs out of their supply they'll do almost anything to get more. They'll do anything to get another "hit". They will do what ever it is that they know to get more.
Well, last week I was reading Robert Kiyosaki's book, The Cashflow Quadrant, for a second time and I stumbled across this idea that came to life for me last week.
Ready for it?
Are you sure?
Here it is...
You are on drugs too.
Yeah, and you know what your drug is?
Come on, guess!
Your drug is MONEY. You are addicted to it.
Yeah, it's true. Money is your drug.
Think about it. When you need more of it what do you do?
You'll do what ever it is that you know to get more.
Hmmm...read that last sentence again, sound familiar (if it doesn't...then read about the druggie mentioned earlier!).
If you make your money by trading your time for money then you'll ask for more time at your place of employment.
If you make your money by getting one commission cheques then you you'll work for more commission.
If you are self-employed you'll work longer and harder for more revenue.
If you make your money by having your assets produce extra cash flow then you'll find a way to get more assets or extract more from what you have.
So there you have it.
Why do you what you do? Because that's what you know. Over the years you've slowly and unknowingly taught yourself to make money in a specific way. And when you need more money you do more of what you've always done.
If you've been making money by going to work then you try to work more for more money.
If you know how to make money by extracting it from assets then that's what you do.
The difference is in what you know. There's nothing wrong with how you make money but some ways are like hauling buckets back and forth from the "money well" every day and other ways are like building pipelines that produce money at will.
How do you change the way you make money? Education first. But don't over do it. Six months of reading about something should be more than enough. Then you start down the new path with action. Making money in new ways is definitely a process.
It doesn't happen overnight like you may want to. You'll make mistakes, there will be pain and frustration but if you stick with it before you know it you'll be feeding your addiction much easier. And something strange happens.
Once you know how to make money in multiple ways you don't worry about it any more. You've put yourself in the driver seat and the addiction becomes much less strong.
Last week two different friends were talking about making money.
One has worked for a company his whole life and never bothered learning about anything new. He's almost proud that he hasn't read a book since college. So he's going off to make more money by working harder.
Another friend is an investor in single family homes. He needs some money to buy a new car. He also works for a company but a few years ago went through the process of learning how to invest in real estate.
So he's decided to extract some money from a property by selling an option on it to a tenant. That way he still owns the asset, didn't trade time for dollars, and now has the money for his new car.
Neat huh?
Until next time...be a Renegade!
Tom & Nick Karadza
"The Real Estate Renegades"
---
Real Estate Investing Step-by-Step:

To learn more about our investing approach and the system we use with our members you can request a copy of our FREE Report to be mailed to you. In it you will learn:
How you can turn 3 Single-Family homes into 24 homes without investing any additional money by having homes buy homes. EASY WEALTH!
How you can create Income for Life in just ONE hour of spare time a day! This means NO FIXING UP DISTRESSED HOMES!
To request your own complimentary copy of our investing in "Nice Homes in Nice Areas" report go to www.LeaveWorkOneDay.com and fill out the form at the bottom of the page.
---
Featured Article:
Our Favorite Real Estate Investment Financing Tips
Real Estate Investment Financing is riddled with hurdles and unanswered questions. When one bank denies your investment property mortgage request another mysteriously approves you.
In Canada there's an obvious need for better service in this area. As an investor in Canada you are left to figure out real estate investment financing, mortgage insurance, property insurance and property taxes on your own.
It can be daunting, especially for you first time. And just when you don't think it can get any worse try and find a bank or mortgage broker or financial planner that will help you lay down a 5-10 year plan that maps out how you can buy more than 4 or 5 investment properties in Canada.
Unless you are willing to put 20-25% down on each investment property not many people have answers for you. We've mapped out some information on investment property mortgages as a guide for you here:
Investment Property Mortgages page...
And you can find some "gotchas" around real estate investment financing here:
Financing Investment Properties...
Here are our Favorite Real Estate Investment Financing Tips
Hunt for a mortgage broker, banker of financial planner with actual real estate financing experience. Someone with experience will not only streamline the mortgage process but they will also be able to give some guidance.

For example, if you're looking to get a 5% down investment property mortgage there are mortgage insurance fees that need to be accounted for in how you structure your investment.

Some of these fees are high and you don't want to be surprised by them on the day of closing.

It's always a good idea to look into the property tax rates in the area so you get an idea of how much you're going to pay. Most cities and towns will have them posted right on their website.

You can also usually see prior year's rates and get an idea of how fast they are trending up.

Here's what the page looks like for Oakville, Ontario, Canada.

Try to develop a relationship with at least one bank and one mortgage broker. I don't believe most Canadians know this but not all banks will have access to the best investment property mortgages and not all mortgage brokers will have access to all of the available mortgage products on the market.

Both are extremely valuable to you. Once you find a good one treat them with care. We've been saved many times by the sharp eye and experience of these contacts.
For the full article click here to continue reading...
---
Exposed: Successful Canadian Investors "Spill the Beans"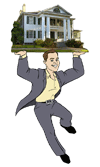 If you want to eavesdrop on how people are making money in real estate right in your own backyard visit www.MyDaddysTeleseminar.com and you'll get instant access to a recording of the call right now!
Three real Canadian investors discuss how they extracted maximum cash flow, managed to get thousands of dollars returned to them days after closing and how they created an "auction like" environment at thier properties!
---
About The Real Estate Renegades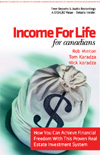 Tom Karadza & Nick Karadza are authors of the book "Income For Life for Canadians", available on Amazon.com by clicking here (not Amazon.ca just yet!), and work with a select group of real estate investors throughout the Greater Toronto Area. They actually do what they talk about it.
They have been called 'Real Estate Renegades' because they are implementing real estate investing strategies that were once thought to be impossible by many 'industry professionals'. They are part of several mastermind groups in Canada and in the USA and publish a monthly 12-page real estate investing newsletter and audio series exclusively for their clients.
They also offer real estate investing classes, reports, coaching and mentoring, and other resources to help both beginner and experienced real estate investors achieve ultimate success. Learn more now at: www.TheRealEstateRenegades.com.
OR
You can meet them in person at their next FREE Real Estate Investing Class, "How to Invest in Nice Homes in Nice Areas" by signing up here: www.CanadianRealEstateTraining.com
---
Enjoying this newsletter?
Feel free to email this to friends and family who are interested in real estate investing. They can sign receive their very own FREE subscrition by clicking here.
---
Copyright 2008 Karadza Publishing Inc. All Rights Reserved.