The Renegade Real Estate Investing Newsletter
"Cutting Through the Real Estate Investing B.S."
---
This FREE Real Estate Investing Tips newsletter is your window into the world of real estate investing. You will never get closer to the real action than learning straight from two Canadian brothers, Tom & Nick Karadza, who are actually implementing the strategies they talk about!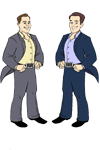 In this weekly publication you will get access to our real world guides, trends, tips, strategies and "how to" information that is being implemented "on the streets" with real people, right here in Canada.
To access the full list of articles visit: www.TheRealEstateRenegades.com or check out their new blog: Blog.TheRealEstateRenegades.com
It is published every Thursday, if you have been forwarded this email and would like your own copy click here to sign up.
---
Friday September 18th, 2008
In this Issue:
- Renegade Commentary: Greece Update & Central Banks & Britney Spears
- Featured Article: "80s Rock vs Britney Spears & Real Estate Investing Principles?"
---
Greece Update & Central Banks & Britney Spears
What a week! Is this fun or what?
Billions of dollars being pumped into the market by central banks all over the world to keep some financial institutions alive and pictures of people walking down Wall Street with boxes in their hands.
We are flipping from "irrational exuberance" to "excessive fear". Amazing times.
Nick checked in from Greece, he's off living his "rockstar life" and obviously loving it.
He jumped on an internet connection to upload a video and make a blog post.
You'll love what you see. I think the beers in the picture cost $15 each. Paradise is expensive.
See a video of his Greece adventure here...
We chatted briefly about all the mess on Wall Street and then he asked if our rent checks had come in from some of our properties. They had. The brief grief about Wall Street was over and all was well again in paradise.
When you invest in something that's a "need" and not a "want" things get pretty straight forward.
This week's feature article is about Britney and the "New Kids" vs. Real Estate investing. Enjoy it!
And in this month's 12-page Income for Life newsletter we're going to share some stories about investors all over Canada and the U.S. who in the middle of this financial "crisis" are collecting thousands of dollars and making huge returns on their investments.
And until next time...be a Renegade!
Tom & Nick Karadza
"The Real Estate Renegades"
p.s. Not yet an Income for Life Member?
---
New FREE Teleseminar CD

We recently interviewed some truly amazing real estate investors who reluctantly revealed the strategies they are using to create positive cash flow properties right in your own backyard.

This interview isn't "hype" but real results based on the implementation of a systematic investing approach.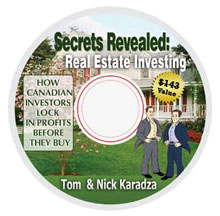 We have made this available on an audio CD to anyone who requests it in an attempt to cut through all the B.S. we see and expose fundamentally correct strategies to real estate investing.

The audio CD comes with a 16-page report that tells you the truth about the system each of these investors used.

And why most people make things a lot harder than they need to be.

You request a free copy of the CD and report, while supplies last, by clicking here.
---
Featured Article:
"80s Rock vs Britney Spears & Real Estate Investing Principles?"
I was reading something from Perry Marshall the other day that made me laugh out loud. Perry is a marketing guy and he comes up with some fantastic content. I'm going to use a similar analogy here shared and tie it to real estate investing here...
Have you ever noticed how some things just stand the test of time?
For example, a great rock song from U2 fifteen years ago is just as good or even better today. You've learned to appreciate the song and it just has a pureness to it.
Even the real hard stuff like AC/DC Thunderstuck gets your juices flowing today even more today than when you first heard it.
On the flip side notice how the latest Britney song or Backstreet beat or New Kid lyrics are white hot when they first come out. They end up on every radio station all the time. You even find yourself tapping the steering wheel to the beat.
But then it fades, and it fades fast.
A year later if that song comes on you almost cringe. You can't believe you actually like that song.
Has this ever happened to you?
Well the same thing happens in a person's journey along the real estate investing path.
Let's map it out...
1. You decide you are fed up with your 9-5 job and you need to get out quick.
2. You see an American TV infomercial on at 2a.m. because you're dreading Monday morning and you can't sleep. You ask yourself if this real estate investing stuff is your ticket out of the rat race. But then you ask, can it work for Canadians too?
3. You hit the local Chapters book store on your lunch break and pick up a book about real estate investing. Maybe it's Rick Dad Poor Dad or The Millionaire Next Door or The Wealthy Barber. The ideas seem sound so you start looking around for anyone doing it.
4. You begin to notice a lot of weekend book camps and investor meetings with some guy at the front giving a hard pitch for you to part ways with $10,000 to get some training. You actually debate doing it but something deep inside you is screaming. It just doesn't feel right.
5. You think back at those books you read and realize that there's definitely some truth to real estate investing. But who can help you?
6. And that's where it usually ends. An endless loop of you going to countless investor meetings where a lot of hype is happening but no real results. A lot of "lucrative" deals are discussed but no details are given unless you pass through the gates that require thousands of bucks as an entrance fee.
7. You begin to get frustrated and either give up or strike out on your own trying to do a "flip" because it looks so sexy on TV. If the guys on TLC and A&E can do it so can you, right?
8. You hit a couple of road bumps with the mortgage and the contractors. You don't have anyone to turn to and all of a sudden your dream of becoming Mr. or Ms. Donald Trump II fades as fast as those lyrics to that Britney song.
Yeah, been there!
It took us a long time to understand some basic principles in real estate investing.
Perhaps they can benefit you so let me share:
Principle #1: Real estate investing is very different than "flipping" or "rehabbing". One is a very sophisticated process, the other is speculation. One is creating a long term asset base that will feed you for years. The other is creating a job for yourself.
Principle #2: Positive cash flow investments are always better than negative cash flow investments. Always. No matter how "lucrative" the opportunity is.
Principle #3: The team of people associated with the investment are more important than the investment itself.
Principle #4: A long term view is mandatory. The poor think day to day, the middle class think month to month, the rich think decade to decade (check out Keith Cameron Smith's book on Amazon.com before it goes out of print).
Principle #5: The numbers don't lie. But the interpretation of the numbers is equally important.
When you stick with the basics of real estate investing everything else sort of melts away.
Basics like fundamentally good neighborhoods and fundamentally good properties are the building blocks of a great portfolio.
It can be tough but always try to peel the curtain back and look beyond the hype.
The team of people you associate yourself with is more important than "the deal". Remember that. And look to build your own team of experts in your community.
The other day we had someone run into our office with an opportunity that we had to buy immediately in order to make $5,000. And if we didn't "act fast" he was going to present this deal to someone else.
A few questions about the numbers and the team of people involved scared him off. We've never seen him again.
Maybe he'll be back, but just like that New Kid song that I can't remember from the 90's.....I bet we never hear from him again!
Until next time...be a Renegade!
For more real estate investing articles, case studies and guides visit www.TheRealEstateRenegades.com
---
About The Real Estate Renegades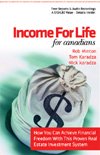 Tom Karadza & Nick Karadza are authors of the book "Income For Life for Canadians", available on Amazon.com by clicking here, and work with a select group of real estate investors throughout the Greater Toronto Area. They actually do what they talk about it.
They have been called 'Real Estate Renegades' because they are implementing real estate investing strategies that were once thought to be impossible by many 'industry professionals'. They focus on creating positive cash flow real estate.
In order to focus exclusively on real estate investing they have co-founded their own brokerage, Rock Star Real Estate Inc.. The inspiration for the name came from the idea that we invest in real estate to live life on our own terms. To create your very own "Rockstar Life", whether that's time with the kids at the cottage or weekend getaways to L.A. and Tuscany!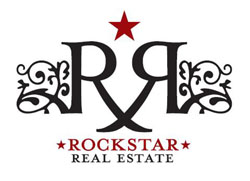 Tom & Nick are also part of several mastermind groups in Canada and in the USA and publish a monthly 12-page real estate investing newsletter and audio series exclusively for their clients.
They also offer real estate investing classes, reports, one-on-one coaching and mentoring, and other resources to help both beginner and experienced real estate investors achieve ultimate success. Learn more now at: www.TheRealEstateRenegades.com.
OR
You can meet them in person at their next FREE Real Estate Investing Class, "How to Invest in Nice Homes in Nice Areas" by signing up here: www.CanadianRealEstateTraining.com
---
Enjoying this newsletter?
Feel free to email this to friends and family who are interested in real estate investing. They can sign receive their very own FREE subscrition by clicking here.
---
Copyright 2008 Karadza Publishing Inc. All Rights Reserved.