The Renegade Real Estate Investing Newsletter
"Cutting Through the Real Estate Investing B.S."
---
This FREE Real Estate Investing Tips newsletter is your window into the world of real estate investing. You will never get closer to the real action than learning straight from two Canadian brothers, Tom & Nick Karadza, who are actually implementing the strategies they talk about!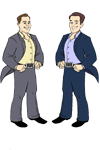 In this weekly publication you will get access to our real world guides, trends, tips, strategies and "how to" information that is being implemented "on the streets" with real people, right here in Canada.
To access the full list of articles visit: www.TheRealEstateRenegades.com
It is published every Thursday, if you have been forwarded this email and would like your own copy click here to sign up.
---
Thursday March 20th, 2008
In this Issue:
- Renegade Commentary: 3.8 Million People Coming to Ontario - Stay Tuned!
- Featured Article: "Your Education In Real Estate Investing Must Include Fire Fighting...And Yes, We're Serious!"
The next FREE Real Estate Training Workshop
Our next real estate training class is on Saturday, March 22, 2008 at 11am in our Oakville offices. In this class you will learn how to profit from Real Estate without having to rehab and renovate distressed homes and create steady monthly income for yourself.
You'll also learn about actual real life success stories of investors doing this right here in your own backyard. To get all the location details and hold your spot (because we regularly fill the class!) visit: www.CanadianRealEstateTraining.com
---
3.8 Million People Coming to Ontario - Stay Tuned!
OK it has been an absolutely nutty couple of weeks!
We got extremely short notice that we'll have to move office locations, at the same time Nick was in Jamaica (one of his properties paid for a trip for him!) and we had a new team member start with us.
And we had our quarterly members event this past Saturday where we spend time with clients we work exclusively with. That was followed by a birthday party at a new kids jungle gym place in the Oakville AMC complex (try going from real estate investing to sliding down slides and climbing rock walls with an army of kids in a two hour span...that'll keep your head spinning).
That was followed by my two nieces having a sleepover party at our place and then by my daughter's second birthday party the next day.
Ah! It takes a minor miracle to keep everything together. Monday morning rolled around and I felt like an 18-wheeler had plowed right over me.
The fun of it all.
But everyone's got their own challenges right? So I'll stop the rant...and get on with it!
So the Ontario Ministry of Finance is projecting that 3.8 million people are on their way to Ontario by 2031.
Now, this is important. If we know that a mass of people larger than the city of Toronto is on its way to Ontario to we want to be investing in this the Golden Horseshoe or not? Well I'll let you make the decision for yourself but for me it's a big fat yes. Population trends are part of the fundamentals that are a key ingredient in making real estate investment.
The same study (updated annually) projects that the fastest growth will occur on the areas surrounding the GTA. So places like Durham, Halton, Peel and York.
Interesting stuff huh?
Type this into Google and you'll find the report for yourself:
ontario ministry of finance ontario population growth 2031
So if you knew there was a 3.8 million person population growth projection and a significant factor in the projected increase is international migration what would you do?
Maybe it's time to step up and take some action!
Until next time...be a Renegade!
Tom & Nick Karadza
"The Real Estate Renegades"
---
Real Estate Investing Step-by-Step:
To learn more about our investing approach and the system we use with our members you can request a copy of our FREE Report to be mailed to you. In it you will learn:
How you can turn 3 Single-Family homes into 24 homes without investing any additional money by having homes buy homes. EASY WEALTH!
How you can create Income for Life in just ONE hour of spare time a day! This means NO FIXING UP DISTRESSED HOMES!
To request your own complimentary copy of our investing in "Nice Homes in Nice Areas" report go to www.LeaveWorkOneDay.com and fill out the form at the bottom of the page.
---
Featured Article:
"Your Education In Real Estate Investing Must Include Fire Fighting...And Yes, We're Serious!"

Look, when getting your education in real estate investing there's something you need to know.
It's great to read about real estate investing. And it's wonderful to teach yourself about the proper mindset required to "attract" success.
But to really get rolling you need to combine the proper mindset with action. It's that combination that propel you towards your goals faster than either one alone.
But you've probably heard all that before so let me throw something else into the mix here. Let me spice up your education in real estate investing.
Once you get into action you need to be able to handle the heat.
Most people run from it. Most people don't want to feel pressure. Most people don't want to be stressed. Most people don't want to battle their way through problems. Most people want to run and hide at the first site of a challenge.
And most people aren't living the life they desire. Go figure.
Here's what I mean about being able to handle the heat.
Invariably when you invest in real estate you will hit hiccups along the way. The insurance company will make you do back flips to confirm the certification of the heating or the old wood burning fireplace. And the cash flow you projected for the first 12 months may get eaten up by an unexpected repair.
Or the tenants you thought would stay for 24 months decide to move out after 12...leaving you scrambling to find a replacement. Or maybe it takes you longer to rent the property than you planned in your "cash flow" spreadsheet.
Well it's how you handle these events that determine if you got what it takes to be a successful investor.
Because if you decide to sell the property. If you decide to bail at the first sign of imperfection you are acting like the majority. And the majority of people is not the group you want to be part of.
It's the tough times, the handling of unexpected events and difficult people that separate you from the masses.
And things that most people avoid...pressure, stress, fear...are the very things that make you stronger. They are the things that people who reach their goals battle through.
This is what your education in real estate investing should focus on!
In nature it's normal for seasons to change and it's normal for major chaotic transformations to occur. This is going to sound a little ridiculous but a caterpillar only turns into a butterfly by going through some pretty serious transformations. The most perfect day almost always follows a terrible storm.
Handling problems and issues and sticking through things is the transformational process that will build your confidence and make you stronger.
And with an increase in confidence you handle bigger problems and with bigger problems come bigger rewards.
I'm speaking from direct experience here.
If you are having trouble battling through a current problem or decision you are facing I have an exercise for you.
Let's keep this on topic and focus your education in real estate investing on a real life situation...
For the full article click here to continue reading...
---
Successful Investors "Spill the Beans"
My son came up with the idea of having some of our real estate investing clients "spill the beans" on a teleseminar call. He thought it would be a great idea if you could hear from others how they are creating wealth for themselves. Well, we couldn't agree with him more ;)
We did it and even helped him set up a website to share it with you.
If you want to eavesdrop on how people are making money in real estate right in your own backyard visit www.MyDaddysTeleseminar.com and you'll get instant access to a recording of the call right now!
---
About The Real Estate Renegades
Tom Karadza & Nick Karadza run the Income for Life real estate investing system for their members throughout the Greater Toronto Area.
They have been called 'Real Estate Renegades' because they are implementing real estate investing strategies that were once thought to be impossible by many 'industry professionals'.
They are authors of the book "Income for Life for Canadians" and will be made available on the website shortly!
They also offer FREE real estate investing classes, FREE reports, coaching and mentoring, and other resources to help both beginner and experienced real estate investors achieve ultimate success. Learn more now at: www.TheRealEstateRenegades.com.
OR
You can meet them in person at their next FREE Real Estate Investing Class, "How to Invest in Nice Homes in Nice Areas" by signing up here: www.CanadianRealEstateTraining.com
---
Enjoying this newsletter?
Feel free to email this to friends and family who are interested in real estate investing. They can sign receive their very own FREE subscrition by clicking here.
---
Copyright 2008 Karadza Publishing Inc. All Rights Reserved.