The Renegade Real Estate Investing Newsletter
"Cutting Through the Real Estate Investing B.S."
---
This FREE Real Estate Investing Tips newsletter is your window into the world of real estate investing. You will never get closer to the real action than learning straight from two Canadian brothers, Tom & Nick Karadza, who are actually implementing the strategies they talk about!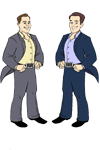 In this weekly publication you will get access to our real world guides, trends, tips, strategies and "how to" information that is being implemented "on the streets" with real people, right here in Canada.
To access the full list of articles visit: www.TheRealEstateRenegades.com or check out their new blog: Blog.TheRealEstateRenegades.com
It is published every Thursday, if you have been forwarded this email and would like your own copy click here to sign up.
---
Thursday May 15th, 2008
In this Issue:
- Renegade Commentary: "Quit Being A 'Loser'!"
- Featured Article: A Guide to Investment Mortgages
The next FREE Real Estate Training Workshop
Our next real estate training class is on Saturday May 24th, 2008 at 10am in our Burlington, Ontario offices. In this class you will learn how to profit from Real Estate without having to rehab and renovate distressed homes and create steady monthly income for yourself.
You'll also learn about actual real life success stories of investors doing this right here in your own backyard. To get all the location details and hold your spot (because we regularly fill the class!) visit: www.CanadianRealEstateTraining.com
---
"Quit Being a 'Loser'!"
I spoke with a lady this week who had spent nearly $20 000 on real estate investment 'training' but $0 on actual investments. Unfortunately, I know she isn't one of a kind, this type of inaction is common.
It got me thinking about something that happened to me that helped push me to the next level.
'Are you a winner or are you a loser?' this was the question posed to me a few weeks back.
It sounds like a fairly simple question right? Let me explain.
I was sitting at a table with Lloyd Irvin who is a master at getting many, many things done, all at once! We were going over some other topics when he told me how he operates.
Every time he wants to get off track or do something to waste some time in the day he will ask himself 'Are you a winner or are you a loser?'
It's a BIG question.
Then he will analyze what he was going to do and if he thinks it is a loser task he will move on to something productive.
I don't know about you but I don't wake up in the morning and look in the mirror at a face of a loser. This line of questioning gets my competitive fire burning.
Throughout the course of the day it is easy to get distracted from the productive tasks, typically those are the ones that are longer and more complicated than the simple ones like answering emails or more likely checking out your favorite time wasting site while at work (Facebook, YouTube, News).
It really breaks down to this.
The key to success is implementation you could have all the knowledge and drive in the world but if you are not doing anything with it, it is wasted.
You need to implement! Most of us get so tied up with useless tasks that we don't give ourselves the opportunity to be nearly as productive as possible.
If we look into our habits and what is holding us back it is easy to see most of the time. Often it is filling our time with the easy, reactive things that come our way.
People wonder how successful people can accomplish so much. There isn't a big secret that they are hiding, it is their commitment to being productive that sets them apart.
I am wrapping up a week where our office was a ghost town since so many vacation schedules collided. To make matters worse I was committed to a full time course as well. But things still had to get done.
I didn't have the luxury of any extra time at all. I was forced to stay focused and pick the most productive tasks to keep our momentum going.
Have you ever been in such a situation? Perhaps the final days before a vacation?
I was forced to fit a full days work (which is not 8 hours when you are running multiple things) into five hours every day, split up between early morning and late evening.
It is amazing what you can do when you are forced to. When you sit down and focus on the tasks of winners. But if you don't have that fire behind you pressing you forward most people start adding the loser tasks back into their daily routine.
There were many times in the last week that I wanted to take a break, and I had to ask myself if I was a winner or a loser.
It sounds kinda corny right? I agree!
But what isn't as laughable is the amount of productive tasks that I plowed through day in and day out. So instead of being a loser and sitting back in your chair today, the day before a holiday weekend. Decide to do something productive. Make the most of your time.
I can tell you that the successful winners in life are not sitting around surfing the internet aimlessly or checking their email 10 times a day.
You just have to choose to be one of them and, most importantly, act like it!
Until next time...be a winner, and a Renegade!
Tom & Nick Karadza
"The Real Estate Renegades"
---
Real Estate Investing Step-by-Step:

To learn more about our investing approach and the system we use with our members you can request a copy of our FREE Report to be mailed to you. In it you will learn:
How you can turn 3 Single-Family homes into 24 homes without investing any additional money by having homes buy homes. EASY WEALTH!
How you can create Income for Life in just ONE hour of spare time a day! This means NO FIXING UP DISTRESSED HOMES!
To request your own complimentary copy of our investing in "Nice Homes in Nice Areas" report go to www.LeaveWorkOneDay.com and fill out the form at the bottom of the page.
---
Featured Article:
A Guide to Investment Mortgages
Have you ever tried to get details on residential investment property mortgages?
Let me tell you, it's a real adventure.
Your local Canadian bank branch usually doesn't have a clue and ends up scaring you off from doing any residential real estate investing all together.
There are some excellent people in bank branches, you just need to find them.
Basically, bank branches aren't set up to deal with the questions investors have and they work on residential investment property mortgages so infrequently they usually don't know the details.
An experienced mortgage broker will usually serve you better in this area.
Canadian Banks & Mortgage Brokers
Some banks don't deal with mortgage brokers. BMO isn't using them right now and RBC has their own team of mobile mortgage representatives. I have experience with the Royal Bank ones and they have proven to be very good.
One thing to note that when you are dealing with a bank directly you are limited to the mortgage products that they offer and sometimes you won't even know other, better suited, options are available to you.
For example, there is a 5% down investment property mortgage program available to Canadians right now. If your bank is not offering the program they may not even tell you that this exists elsewhere.
So if you are using BMO or RBC directly, or for that matter, if you are using any bank directly for your mortgage, it's smart to check in with an experienced mortgage broker as well.
That way you've covered almost all options available to you.
I say "almost" because there are private institutions that will lend you money (Xceed Financial) and "hard money" lenders. We'll discuss this in more detail in a future article.
"So What Should I Know About Investment Property Mortgages?"
Know this...they are constantly changing and there are new mortgages for investment properties coming available almost monthly! So again, an experienced mortgage broker is likely your best answer.
Invesment Property Mortgages Some Background for Context
When buying an investment property you are likely looking to put as little down as possible to gain maximum leverage.
For the full article click here to continue reading...
---
Exposed: Successful Canadian Investors "Spill the Beans"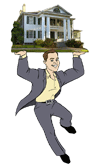 My son came up with the idea of having some of our real estate investing clients "spill the beans" on a teleseminar call. He thought it would be a great idea if you could hear from others how they are creating wealth for themselves. Well, we couldn't agree with him more ;)
We did it and even helped him set up a website to share it with you.
If you want to eavesdrop on how people are making money in real estate right in your own backyard visit www.MyDaddysTeleseminar.com and you'll get instant access to a recording of the call right now!
---
About The Real Estate Renegades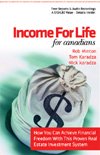 Tom Karadza & Nick Karadza are authors of the book "Income For Life for Canadians", available on Amazon.com by clicking here (not Amazon.ca just yet!), and work with a select group of real estate investors throughout the Greater Toronto Area. They actually do what they talk about it.
They have been called 'Real Estate Renegades' because they are implementing real estate investing strategies that were once thought to be impossible by many 'industry professionals'. They are part of several mastermind groups in Canada and in the USA.
They also offer real estate investing classes, reports, coaching and mentoring, and other resources to help both beginner and experienced real estate investors achieve ultimate success. Learn more now at: www.TheRealEstateRenegades.com.
OR
You can meet them in person at their next FREE Real Estate Investing Class, "How to Invest in Nice Homes in Nice Areas" by signing up here: www.CanadianRealEstateTraining.com
---
Enjoying this newsletter?
Feel free to email this to friends and family who are interested in real estate investing. They can sign receive their very own FREE subscrition by clicking here.
---
Copyright 2008 Karadza Publishing Inc. All Rights Reserved.