The Renegade Real Estate Investing Newsletter
"Cutting Through the Real Estate Investing B.S."
---
This FREE Real Estate Investing Tips newsletter is your window into the world of real estate investing. You will never get closer to the real action than learning straight from two Canadian brothers, Tom & Nick Karadza, who are actually implementing the strategies they talk about!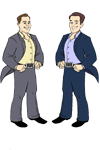 In this weekly publication you will get access to our real world guides, trends, tips, strategies and "how to" information that is being implemented "on the streets" with real people, right here in Canada.
To access the full list of articles visit: www.TheRealEstateRenegades.com or check out their new blog: Blog.TheRealEstateRenegades.com
It is published every Thursday, if you have been forwarded this email and would like your own copy click here to sign up.
---
Thursday April 17th, 2008
In this Issue:
- Renegade Commentary: "You Are A Business Athlete & Champion"
- Featured Article: Investing In Commercial Real Estate - Is The Grass Always Greener? Maybe.
The next FREE Real Estate Training Workshop
Our next real estate training class is on Saturday April 26th, 2008 at 10am in our Burlington offices. In this class you will learn how to profit from Real Estate without having to rehab and renovate distressed homes and create steady monthly income for yourself.
You'll also learn about actual real life success stories of investors doing this right here in your own backyard. To get all the location details and hold your spot (because we regularly fill the class!) visit: www.CanadianRealEstateTraining.com
---
"You Are A Business Athlete & Champion." - Gene Simmons
Since watching Gene on his TV Show, Family Jewels, on A&E I've come to learn that he's more of a business and marketing mastermind than I had previously given him credit for.

Who would have thunk that the guy from KISS with "the tongue" was really a business mogul in disguise? Not me.

So I had a chance to listen to him live a few weeks ago while at Dan Kennedy's marketing conference in Nashville and thought I'd summarize a few "Gene Simmons Truisms" with you...

1. If you work and give your best you must rise to the top of the mountain.

2. He focused building a business on America's #1 export at the time, Pop Culture.

3. People skills and language skills are his keys to success. In front of the crowd he spoke German, Hungarian, Japanese and Hebrew and is now teaching himself Mandarin Chinese.

4. Gene started KISS because he felt it was the right business at the right time. Combining rock and horror was a conscious decision. Now he feels it's the right time to be investing in China and has real estate projects in the tens of millions with the Chinese government...also the reason he's learning to speak Mandarin.

5. Growing up he went to libraries and read literally everything he could get his hands on.

6. He went to Junior Achievement growing up and started a cookie business. Highly recommends it for all kids.

7. He doesn't hide behind assistants or a desk because he feels direct connection with his audience and fans is how he gets feedback, learns and adjusts.

8. KISS was made to be a BRAND not a BAND.

9. When he got his first $10,000,000 cheque his Mom said, "OK great, now what?". At that point he decided to keep learning, growing and earning.

There's a few other points I'll keep squirreled away for a rainy day :) but there's one last one that really got my attention.

It's this,

He kept multiple jobs growing up (a paper route and his first rock band) because he wanted to reduce his risk.

That blew me away. Over the last few months every single self made millionaire I know personally or have met briefly has mentioned that they have held multiple jobs to spread their risk. If he lost income from one job he had another one already running.

Brilliant.

Most professionals I know who die if their friends found out the where a chiropractor by day and were holding down another job "part time".

They would feel people would question their success. It wouldn't jive with the image they were trying to promote. When it comes to real estate investing in Canada I strongly believe and encourage the same practice.

When you have one investment property if the tenant goes AWOL you are left with nothing. If you have two properties and you lose a tenant in one of them then you still have 50% of the income coming in. If you have three properties and you lose one you still have 2/3rds of the income coming in.

Such a simple concept that so many people ignore.

If you have a single source of income right now what are you doing to spread your risk? Have you researched how a single real estate investment can begin building your wealth and act as a second income stream? Maybe it's time to spread your risk just like Gene. Who knows, if you act fast, one day you may be sipping cocktails with him somewhere in China speaking Mandarin to each other.

Until next time...be a Renegade!

Tom & Nick Karadza
"The Real Estate Renegades"
---
Real Estate Investing Step-by-Step:
To learn more about our investing approach and the system we use with our members you can request a copy of our FREE Report to be mailed to you. In it you will learn:
How you can turn 3 Single-Family homes into 24 homes without investing any additional money by having homes buy homes. EASY WEALTH!
How you can create Income for Life in just ONE hour of spare time a day! This means NO FIXING UP DISTRESSED HOMES!
To request your own complimentary copy of our investing in "Nice Homes in Nice Areas" report go to www.LeaveWorkOneDay.com and fill out the form at the bottom of the page.
---
Featured Article:
Investing In Commercial Real Estate - Is The Grass Always Greener? Maybe.
Investing in commercial real estate is a huge topic that has a ton of great angles.
We deal exclusively with investors and focus a lot of time and energy into residential real estate investing. And just being in this line of work regularly leads to discussions around commercial investing.
Commercial investing (think apartment buildings, strip malls and town house complexes etc.) has a lot of differences than residentail investing.
Around financing there's things like larger down payments, more expensive inspections (including environmental assessments), mortgage broker fees, slightly higher mortgage rates, property managers.
Many new investors figure there's a lot of money in larger commercial investments just because they are larger than residential investments.
Now this may be the case but there's a few things to think about.
The down payment required is going to be 25%. So if you're looking at a $4,000,000 building you need to pony up $1,000,000 to purchase it.
Or on a smaller scale you for a $1,000,000 six plex in the out skirts of the Greater Toronto Area you need $250,000.
With $250,000 you can acquire over $2,000,000 in residential investments with the newly minted mortgage programs for investors. So you can definitely "leverage up" with residential easier than with commercial.
Investing in commercial real estate may be more "passive". Isn't that everyone's goal? Lie on the beach while the cheque role in right? Well I can tell you that there's nothing that is truly passive in real estate.
Commercial buildings with property management may be more passive than residential but they're definitely not 100% hands free. And if you treat them like that you're property manager while likely be making more money from the venture than you do.
And the expected capitalization rate is in the Greater Toronto area when investing in commercial real estate is around 8%.
Another thing to be aware of but a point that is regularly overlooked are the valuations.
For the full article click here to continue reading...
---
Successful Investors "Spill the Beans"
My son came up with the idea of having some of our real estate investing clients "spill the beans" on a teleseminar call. He thought it would be a great idea if you could hear from others how they are creating wealth for themselves. Well, we couldn't agree with him more ;)
We did it and even helped him set up a website to share it with you.
If you want to eavesdrop on how people are making money in real estate right in your own backyard visit www.MyDaddysTeleseminar.com and you'll get instant access to a recording of the call right now!
---
About The Real Estate Renegades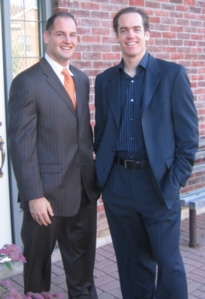 Tom Karadza & Nick Karadza are authors of the book "Income For Life for Canadians" and work with a select group of real estate investors throughout the Greater Toronto Area. They actually do what they talk about it.
They have been called 'Real Estate Renegades' because they are implementing real estate investing strategies that were once thought to be impossible by many 'industry professionals'.
They also offer real estate investing classes, reports, coaching and mentoring, and other resources to help both beginner and experienced real estate investors achieve ultimate success. Learn more now at: www.TheRealEstateRenegades.com.
OR
You can meet them in person at their next FREE Real Estate Investing Class, "How to Invest in Nice Homes in Nice Areas" by signing up here: www.CanadianRealEstateTraining.com
---
Enjoying this newsletter?
Feel free to email this to friends and family who are interested in real estate investing. They can sign receive their very own FREE subscrition by clicking here.
---
Copyright 2008 Karadza Publishing Inc. All Rights Reserved.